 Solido 3D took advantage of it's own SD300 Pro 3D Printer while working on the re-design of the printer's external plastic covers.This process exercised the use of SD300 Pro in-house printer as part of an entire design methodology and process, and demonstrated the ability to produce large scale, robust and fully functional prototypes in the smallest 3D Printer available in the market today.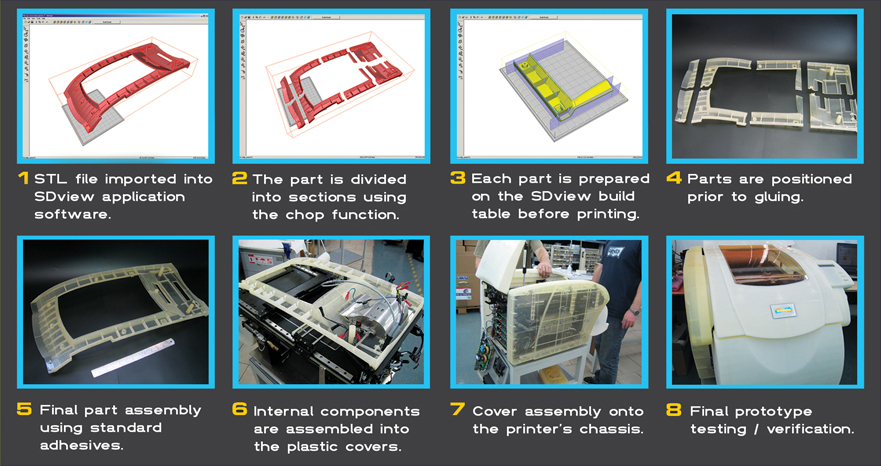 Following the re-design of the SD300 Pro's external plastic covers, a fully functionalprototype was required to verify the design concept, part structure, form & fit andassembly method.
Due to the large scale parts, traditional rapid prototyping equipment using photopolymers or powders was not considered as an appropriate solution due to the lackof high mechanical properties required for testing the large parts. In addition, outsourcing parts of this size would result in extremely high costs. With the help of the SDview application software, each part was divided into sections, built in the SD300 Pro and was later joined using standard commercial adhesives to create a 1:1 scale model. Internal components where assembled onto the plastic
covers with the help of inserts and screws. The final parts where assembled onto the printer's chassis and the design was tested, studied and changed according to the functional input. The robust engineered plastic parts built in the SD300 Pro simulated injected plastic and performed perfectly for on going assembly and disassembly testing. The prototype was perfect for final verifications before moving on to tooling and production. This was extremely time efficient and important due to the high costs of molds for a product this size.